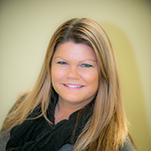 Bonnie Eckman - Liaison, Mental Health Specialty Practice Area
Bonnie has always been passionate about life and being able to live life to the fullest, which is why she is so passionate about Occupational Therapy. During school she spent many extra hours focusing on mental health in relation to function and was particularly interested in sensory regulation/integration/modulation and its use for improved mental health. Feeling sure that this is a missing piece to leading a balanced and productive life she has made it her goal to teach as many people as possible about this important part of leading a balanced life. Sensory input is a basic human survival skill, yet is very rarely addressed or utilizing it for self-regulation, mindfulness, life balance and basic stress relief.  
Bonnie's passion now is to share her knowledge and experience with other practitioners. She actively consults in teaching/training others in mental health and sensory treatments. She has provided in-services for OT and OTA education programs, presented as a speaker for multiple seminars and conferences as well as volunteers often for the NBCOT (National Board of Certification of Occupational Therapy) and UOTA (Utah Occupational Therapy Association) as a specialist in mental health, addiction and sensory modulation. 
She is excited to be able to share these valuable life skills with as many people as possible through an online platform. This program was created for other educators, therapists, parents and any individual wanting to improve their lives. 
Contact Bonnie at [email protected].